Some Friends Are Forever
Four women all of which seem like your run-of-the-mill housewives or business-driven ladies end up forming their own inner-circle clique in which they discuss everything from marriage – both conventional and not; to sex and fashion. In the vast, expansive area of Dubai they have all made a name for themselves to which they wear proudly in their gleaming smiles and polite conversation but under the masks of make-up and beyond the designer wardrobes each of these ladies hold a secret – some darker than others.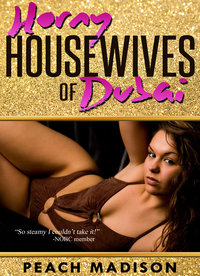 In our first story we follow Teresa, the woman with an open marriage. Teresa isn't picky when it comes to finding herself or her husband Andy a lover. It was during her best-friend Felicia's engagement party that she hand-picked another woman and fed her to her husband; she watched as he engulfed her tight, throbbing hole and she loved every second of it. Since then she has been hooked on sexual adventures her open marriage could offer her. However, despite her being the oldest and 'wisest' of the ladies Teresa is blind to the brutal acts being preformed right under her nose. It is only after recounting the steps of her life in Dubai does she realize exactly what's been going on and although she misses out some minor details Teresa is soon faced with a problem that won't go away.
As the mother of the group it falls on her to protect her women and she knows the lengths she may have to go to, to do that.
About the Author
Peach Madison has enjoyed writing romance novels as well as
"erotika for woman"
(as some people call it) for seven years now. Many of her works offline include bondage sex stories and
"erotika short stories"
that have moved men and woman alike.
Horny Housewives of Dubai is not intended for young audiences.
Ages 18 and above only!